Operating from our modernized factory spanning 14,000 square meters, JOBORN is an enterprise with a specialization in developing and manufacturing stone cutting equipment. Some of our most popular machinery includes our, infrared bridge stone cutting machine (Max. disc diameter: 450-700mm), bridge stone center cutting machine (Max. disc diameter: 1200mm), combined stone cutting saw (Max. disc diameter: 2200-2800mm), and automatic stone profiling machine (Max. disc diameter: 600mm). We also produce stone grinding and calibrating equipment for you to choose from. Our machines are designed to handle the processing of many different types of stone, including granite, sandstone, artificial stone, limestone, travertine, marble, and much more.
With more than two decades of experience, we have produced more than 30 thousand pieces of stone processing equipment. We are committed to providing outstanding produces and services. We can combine new technology and old school techniques to meet the varying needs of customers all over the world, ensuring our equipment is suited for any job you put it to.
Stone machinery exhibition hall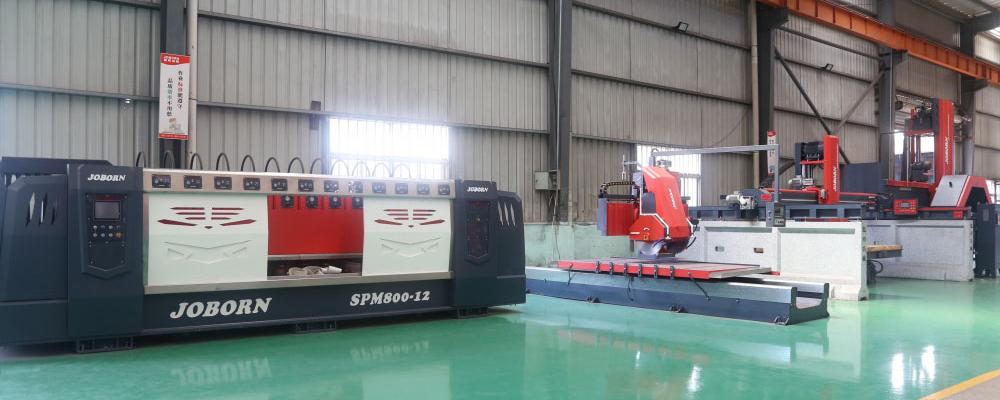 JOBORN Machinery Co. has passed ISO 9001:2008 International Quality Management System and EU CE Safety Certification. An ERP system has been implemented for resource and production management. The system allows us to carefully control the processing and assembly of parts to ensure the level of quality expected from our customers.
Since the company's inception, we have carried out independent and innovative research in the development of stone equipment. Our R&D department is made up of highly experienced team members who carry out projects regarding the appearance, structure, and performance of our stone equipment. We but also organize our designers to develop new machines after carrying out thorough market research. Our equipment has now been used in India, Egypt, Russia, Saudi Arabia, Iran, and many more countries around the world.
Machining area
Equipment surface paint
Equipment assembly
Equipment assembly
Equipment assembly
Equipment assembly
Equipment assembly
Equipment assembly
Finished products
Parts warehouse